Tarja Turunen - Act II (2018) Blu-Ray 1080p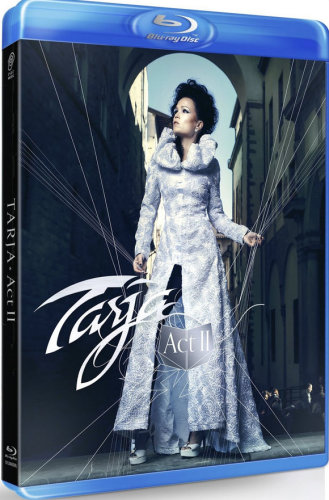 Screenshots: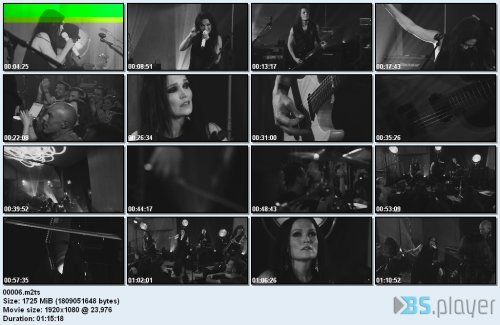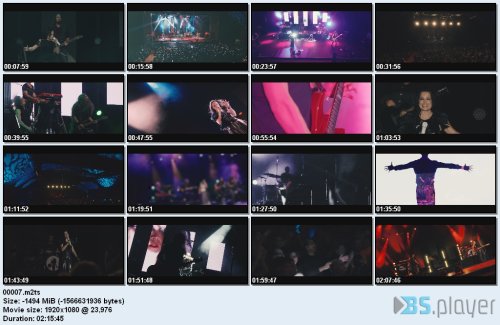 Setlist:
Filmed at London's Metropolis Studios, June 6, 2016
01. No Bitter End
02. Eagle Eye
03. Sing For Me
04. Love To Hate
05. The Living End
06. Medusa
07. Calling From The Wild
08. Victim Of Ritual
09. Die Alive
10. Innocence
11. Until My Last Breath
12. Too Many
Filmed at Milan's Teatro della Luna Assago on November 29, 2016
01. Against The Odds
02. No Bitter End
03. 500 Letters
04. Eagle Eye
05. Demons In You
06. Lucid Dreamer
07. Shameless
08. The Living End
09. Calling From The Wild
10. Supremacy
11. Tutankhamen – Ever Dream - The Riddler – Slaying the Dreamer
12. Goldfinger
13. Deliverance
14. Until Silence - The Reign - Mystique Voyage - House of Wax - I Walk Alone
15. Love To Hate
16. Victim of Ritual
17. Undertaker
18. Too Many
19. Innocence
20. Die Alive
21. Until My Last Breath
Bonus:
Interviews with Tarja and band members
PhotoGallery 1: Through the eyes of the fans
PhotoGallery 2: From stages and streets by Tim Tronckoe
Description:
Following up the worldwide top 10 video chart success "Act I", Tarja and earMUSIC are happy to announce the release of the long-awaited follow up "Act II" this summer.
Filmed during Tarja's world tour "The Shadow Shows", during which the influential heavy rock singer circled the world for 7 ½ times with over 300.000 km travelled and played over 200 shows in 40 countries in front of 1 million people.
"Act II" consists of the singer's very intimate set filmed and recorded live at the Metropolis Studio in London, UK and the breathtaking live performance of one of her shows in Milan, Italy, as well as previously unreleased interviews and photo galleries.
The first chapter, "Metropolis Alive", has been filmed two months prior to the release of Tarja's 2016 success "The Shadow Self". Twenty (20) winners from all over Europe were lucky to witness Tarja's intimate, yet rocking 75 minute set at renowned Metropolis Studios in London, UK where the singer performed songs from her then unreleased album – for the first time in front of an audience.
"Act II's" second chapter has been recorded on November 29th, 2016 at the magnificent Teatro della Luna in Milan, Italy and includes hits from all four Tarja albums such as "Innocence", "Die Alive", "Until My Last Breath" as well as an incredible cover of Muse's classic "Supremacy". That night's set list also enchants the soprano's long-time fans with a medley consisting of the distinctive Nightwish evergreens "Ever Dream", "Slaying The Dreamer" and "The Riddler". All topped off with a remarkable acoustic set which presents Tarja classics in a brand new way.
Info:
Source:

Genre:
Symphonic Metal
Quality:
Blu-Ray | 1080p
Format:
M2TS | 20.0Mbps
Length:
03:31:05 + 00:41:12 | 46.04Gb
Video:
H.264 | 1920x1080 | 16:9 | 23.976fps
Audio 1:
LPCM | 2304kbps | 48kHz | 2 channels: L R
Audio 2:
DTS-HD MA | 1510kbps | 48kHz | 6 channels: Front: L C R, Surround: L R
Audio 3:
AC3 | 448kbps | 48kHz | 6 channels: Front: L C R, Surround: L R
Audio 4:
AC3 | 192kbps | 48kHz | 2 channels: L R (Bonus)
Language:
English

Code:

https://www.keeplinks.co/p84/5b5f52630ce7b
pass: galexandersHD
Attention:
Files are subject to expiration and can be automatically deleted if their not downloaded 30 days after the last download.