Berliner Philharmoniker - European Concert From Bayreuth (2018) HDTV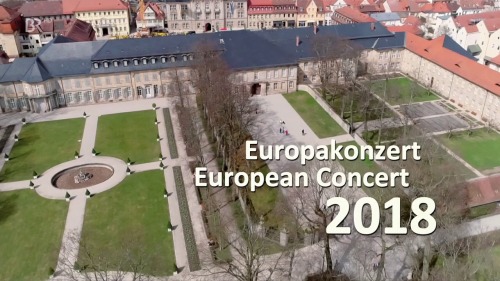 Screenshots: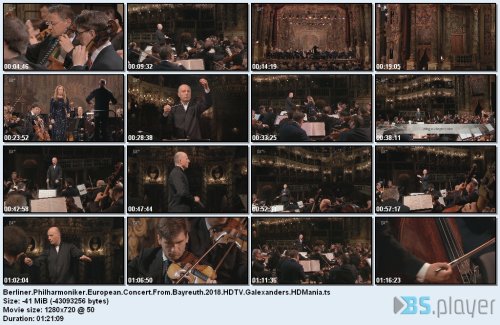 Setlist:
01 - Ludwig van Beethoven - Leonora Overture No. 3 in C major, op. 72
02 - Richard Wagner - Wesendonck Lieder (orch. by Felix Mottl and Richard Wagner)
03 - Eva-Maria Westbroek soprano
04 - Ludwig van Beethoven - Symphony No. 4 in B flat major, op. 60
Description:
An architectural gem is the venue for this European Concert: the Margravial Opera House in Bayreuth, one of the few originally preserved theatrical buildings of the Baroque. Paavo Järvi, who has caused a sensation particularly for his interpretations of Beethoven, conducts the composer's Fourth Symphony, and of course Richard Wagner could not be missed out in a Bayreuth concert either. The soloist in his Wesendonck Lieder is Eva-Maria Westbroek.
Info:
Source:

Lineage: Vu+Solo2 DVB-S2 satellite receiver -> HDD -> Videoredo TV Suite 4 -> .ts file format
Genre:
Classical
Quality:
HDTV | 720p
Format:
TS | 12.9Mbps
Length:
01:21:00 | 7.95Gb
Video:
H.264 | 1280x720 | 16:9 | 50.000fps
Audio:
AC3 | 448kbps | 48kHz | 6 channels: Front: L C R, Surround: L R
Language:
English
Capper: Galexanders

Code:

https://www.keeplinks.co/p84/5bcd7cc5a1af2
pass: galexandersHD
Attention:
Files are subject to expiration and can be automatically deleted if their not downloaded 30 days after the last download.