Heart & Friends - Home For The Holidays (2014) Blu-Ray 1080i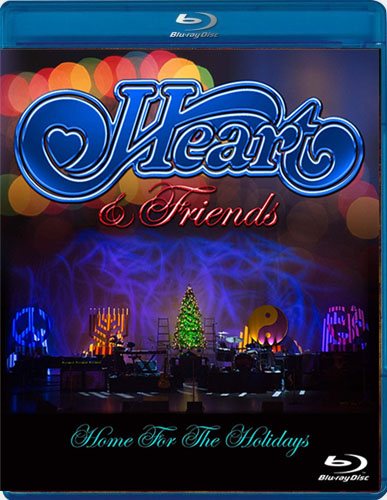 Screenshots: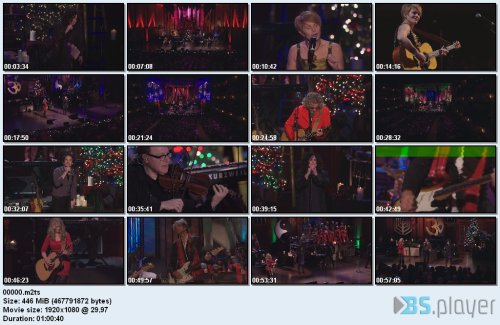 Setlist:
01. The River
02. Seasons
03. Rocking (feat. Shawn Colvin)
04. Love Come Down at Christmas
05. POEM
06. All Through the Night (feat. Richard Marx)
07. All We Need is an Island (feat. Sammy Hagar)
08. Santas Going South (feat. Sammy Hagar)
09. Please Come Home for Christmas (feat. Pat Monahan)
10. Remember Christmas
11. Barracuda
12. Even It Up
13. Stairway to Heaven
14. Ring Them Bells
Description:
Hearts Ann and Nancy Wilson returned to their hometown of Seattle to stage a celebration of the Christmas season, gathering a few of their friends to join them in singing holiday classics, personal favorites and some of their own hits. Special guests Shawn Colvin, Sammy Hagar, Richard Marx and Pat Monahan from Train joined HEART for this once-in-a-lifetime concert, which was taped on Dec. 12 2013 at the beautiful Benaroya Symphony Concert Hall in Seattle. The Wilson sisters performed an array of holiday songs written by Joni Mitchell, Harry Nilsson, Bob Dylan and Hagar in their Christmas set as well as some of HEART s favorite songs. Colvin, Hagar, Marx and Monahan provided additional vocals on the tunes and/or sing duets with Heart.
Heart and Friends: 'Home for the Holidays' ended a prolific and award-winning 2013 for Heart, who have been enjoying a resurgence of popularity since 2010s 'Red Velvet Car', which was the group s first Top 10 album in 20 years. Many successful live shows and tours (including a 2011 tour with Def Leppard, and their 2013 Heartbreaker tour) have occurred with 2012 seeing the release of 'Strange Euphoria', a definitive career-spanning box set; the arrival of 'Kicking and Dreaming: A Story of Heart, Soul, and Rock and Roll', a best-selling autobiography; the announcement of Ann and Nancy Wilsons Heart star on the Hollywood Walk of Fame and the release of 'Fanatic', Hearts 14th studio album. And adding to their list of awards, Heart was inducted into the Rock and Roll Hall of Fame last April.
Info:
Source:

Genre:
Hard Rock | Folk Rock
Quality:
Blu-Ray | 1080i
Format:
M2TS | 25.0Mbps
Length:
01:00:40 | 12.6Gb
Video:
H.264 | 1920x1080i | 16:9 | 29.970fps
Audio 1:
LPCM | 2304kbps | 48kHz | 2 channels: L R
Audio 2:
AC3 | 640kbps | 48kHz | 6 channels: Front: L C R, Surround: L R
Language:
English

Code:

https://www.keeplinks.co/p84/5bcee9d1aa2fb
pass: galexandersHD
Attention:
Files are subject to expiration and can be automatically deleted if their not downloaded 30 days after the last download.